Dear Congress: It's Time For Clean Energy and Climate Solutions
Clean Energy and Climate Solutions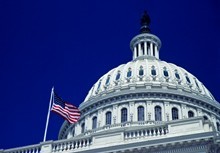 It Takes 1-Minute !
Just enter your zip-code below! We'll find your Representatives and set up a clean-energy email message for your review. You can send our sample text, customize it, or write your own!
Want it printed and hand-delivered to your Representative's DC Office? There's an option for that!
Privacy Assured: Your information will never be sold or abused. You can unsubscribe at any time. So please let us stay in touch with you by opting in on the next screen to receive our occasional actionable updates on energy and climate.
Public Comments
Jan 25th, 2017
Jennifer V. from Colorado Springs, CO signed.
Jan 24th, 2017
Ashlee M. from San Diego, CA writes:
The coal and oil industries are outdated, and doing no good for the present or the future of our world. Clean energy is the future, and much more time and money must be devoted to creating clean energy and in turn bringing in more jobs. PLEASE do not continue ruining our atmospher and environment with the excuse that we need jobs and freedom from buying resources from the middle east. Clean Energy WILL CREATE JOBS AND GIVE US FREEDOM FROM THEM. Stop being selfish and greedy and continuing to support oil and coal industries.
Jan 23rd, 2017
Brandy J. from Charleston, SC signed.
Jan 22nd, 2017
Eileen S. from Corning, NY signed.
Jan 21st, 2017
Erica B. from Bozeman, MT writes:
Climate change is something we all need to accept and appreciate as REAL. It will effect us all, regardless of wealth and country. Borders, abortion, health care won't matter if we don't have the basic needs of clean water, clean air and clean soil for food production. We've pushed the need for change back long enough that climate change can no longer be fixed by reducing, reusing and recycling. Countries, especially countries with power, need to be the role models for the rest of the world to keep the human population alive. Please support climate change regulations for the benefit of each and every living being.
Jan 15th, 2017
Tara B. from Saint Paul, NE signed.
Dec 10th, 2016
Rachel P. from Milwaukee, WI signed.
Dec 10th, 2016
Michael W. from Milwaukee, WI writes:
Our future as a species, the future of our planet, the future of our wildlife depends on our action TODAY. SALT REACTORS ARE SUSTAINABLE. The future starts now; with us.
Dec 8th, 2016
Meagan P. from Philadelphia, PA signed.
Dec 7th, 2016
Jordan P. from Olympia, WA writes:
For the sake of our planet, our indigenous peoples and wildlife, the people who defend our country, and most of all our children, we need to move beyond oil and turn to clean energy.
Dec 7th, 2016
Jacquelyn F. from Cascade, CO signed.
Dec 6th, 2016
Ashley K. from Andover, MN signed.
Nov 30th, 2016
Someone from Kansas City, MO writes:
It is time to help the younger generation in so many ways. This is very important.
Nov 24th, 2016
Rachel W. from San Antonio, TX signed.
Nov 18th, 2016
Jessica G. from Burke, VA signed.
Nov 18th, 2016
Sara B. from Park Forest, IL writes:
We need green energy, now.
Nov 15th, 2016
Jordana K. from Los Angeles, CA signed.
Nov 12th, 2016
John M. from Hillsboro, OR signed.
Nov 10th, 2016
Kelli C. from Hutchinson, KS signed.
Nov 9th, 2016
John M. from Hillsboro, OR writes:
There is money and substantial gains to be had through investing in clean energy. Please utilise cutting edge science and innovation to limit carbon emissions. This, I think, is a very reasonable request. Let's create renewable jobs with renewable energy.
Nov 2nd, 2016
Ryan C. from La Quinta, CA signed.
Nov 1st, 2016
Christopher D. from Audubon, NJ signed.
Nov 1st, 2016
Someone from Audubon, NJ signed.
Nov 1st, 2016
Kate D. from Audubon, NJ writes:
The time is now, we must act before it's too late. Clean, renewable energy is the only option we have for our future.
Oct 26th, 2016
Andres F. from Miami, FL writes:
We The People want clean energy for a better future!
Oct 26th, 2016
William M. from Dekalb, IL signed.
Sep 17th, 2016
Nick J. from Costa Mesa, CA writes:
Jul 25th, 2016
Serina M. K. from Lakeland, FL signed.
Jul 10th, 2016
Larry L. from Ormond Beach, FL signed.
Jul 1st, 2016
Eva G. from Encinitas, CA writes:
The implementation of clean energy is imperative to the world's betterment, and if America becomes a clean nation, then the rest of the world will follow suit and the world will be a better place.
Jun 30th, 2016
Brandy F. from Dexter, MO writes:
Future generations deserve to inherit a beautiful, livable Earth. I firmly stand with intentions to make that a reality, and switching to clean, renewable energy is the first step! This is our home, and we only have one. Let's cherish and respect it!
May 19th, 2016
Ron K. from Deer Lodge, TN writes:
#CleanSafeEnergy in Tennessee and all of The United States.
May 18th, 2016
David B. from Fountain, CO writes:
What year are we living in? Why are we still burning fossil fuels to such a high degree instead of investing in better alternatives? Make the United States a leader in a clean and renewable energy revolution, set an example for the world to follow and let our children inherit a better world. Hold industry and power companies to a higher standard and incentivize any who make positive strides towards alternate energy. We are not doing enough!
Apr 13th, 2016
TROY A. from Hilo, HI writes:
Climate change is a serious issue that must be addressed now. Investing in clean energy is common sense.
Apr 10th, 2016
Dennis O. from Micanopy, FL writes:
Clean energy is a no brainer...
Apr 8th, 2016
Judith S. from Fredericksburg, VA writes:
Virginia has a lot to lose from climate change -agriculture, fisheries, our health,...
Mar 24th, 2016
Escher L. from Forest Knolls, CA signed.
Mar 24th, 2016
Escher L. from Forest Knolls, CA signed.
Mar 14th, 2016
Someone from Bethel Park, PA signed.
Mar 2nd, 2016
Mark C P. from Cleveland, TX writes:
The Has Needed this for along time.Not only Alternative Energy But the Biggest thing The U.S And The World Desperately Needs Is Wireless ELECTRICITY.The World Wireless ELECTRICAL TECHNOLOGIES Especially in 3rd World Countries .Do we Want a More United World then my Honest opinion is To give Our Wireless ELECTRICITY TECHNOLOGIES to the U.S And Then The World.This Would Solve Alot of Problems that we Currently see in our World today.