Dear Congress: It's Time For Clean Energy and Climate Solutions
Clean Energy and Climate Solutions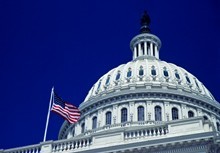 It Takes 1-Minute !
Just enter your zip-code below! We'll find your Representatives and set up a clean-energy email message for your review. You can send our sample text, customize it, or write your own!
Want it printed and hand-delivered to your Representative's DC Office? There's an option for that!
Privacy Assured: Your information will never be sold or abused. You can unsubscribe at any time. So please let us stay in touch with you by opting in on the next screen to receive our occasional actionable updates on energy and climate.
Public Comments
Feb 24th, 2016
Someone from Kenner, LA signed.
Feb 4th, 2016
Christopher D. from Leesburg, VA signed.
Jan 25th, 2016
Josie T. from Littleton, CO signed.
Dec 25th, 2015
Someone from Bethel Park, PA signed.
Dec 10th, 2015
Taylor H. from Highlands, TX writes:
We need to be able to sustain this Earth for future generations. There is no planet B. Convert to clean/solar energy and stop the continuous use of fossil fuels and carbon dioxide emmisions. The people are DEMANDING it. Something needs to be done or there will be NOTHING left.
Dec 1st, 2015
Hayley D. from Shawnee, KS signed.
Nov 17th, 2015
D G. from Dumont, NJ signed.
Nov 8th, 2015
Jacob R. from Richmond, TX writes:
I believe clean energy is the way of the future. Oil is the past. Enough of drilling for oil and dependence on foreign oil. I support clean energy and clean transportation.
Nov 4th, 2015
Rhianna H. from Kew Gardens, NY signed.
Nov 2nd, 2015
Someone from Kelso, MO signed.
Nov 1st, 2015
TROY A. from Hilo, HI signed.
Oct 29th, 2015
Someone from Chico, CA signed.
Oct 21st, 2015
Arnold L. from Emeryville, CA signed.
Oct 1st, 2015
Alina P. from Hollywood, FL signed.
Sep 28th, 2015
William M. from Port Saint Lucie, FL writes:
It is time for us to move away from fossil fuels. Here in the great US of A, we have a vast array of renewable energy, and it is ours. We can be energy independent. Wind, solar, hydroelectricity, nuclear, we have it. We can be energy independent and green at the same time. Let's save ourselves from dirty air, dirty water, and invest in clean energy, for future generations.
Aug 29th, 2015
Jeff C. from Rome, NY writes:
We need to consider what we are seeing, not just scientific data but what we see when we leave our homes. There are serious climate changes on the horizon and these changes are comfort zones with existing fossil fuel technology. Embracing solar and wind power, some geothermic technologies could prove to be resourceful and economical. I want to put s stop to comfort zone technologies and put forth and initiative with the Obama administration on reducing these technologies to eventually pushing them out of our economy and ecology.
Aug 26th, 2015
Jan Marie R. from Bryn Mawr, PA signed.
Aug 20th, 2015
Christian R. from Durham, NC writes:
Save the coral reefs...if its not too late already
Jul 29th, 2015
Someone from Canal Fulton, OH signed.
Jul 8th, 2015
Grady Y. from Fort Lauderdale, FL signed.
Jun 15th, 2015
Someone from Charlotte, NC signed.
Apr 17th, 2015
Lonnie F. from Duson, LA signed.
Mar 18th, 2015
Someone from Chicago, IL signed.
Mar 8th, 2015
Noel S. from Devon, PA signed.
Feb 24th, 2015
william f. from Princeton, MN signed.
Feb 16th, 2015
Someone from Roselle, IL writes:
We need to bring the next generation into a world of renewable energy, renewable resources. We need to teach our young to care for the world we live in and desire less materialism. And the West needs to break their ties with the Middle East now or freedom as we once knew it will begin to fade. We need to push for alternative forms of energy, or we will destroy our environment, our health, our families, and our governments.
Nov 15th, 2014
Alison S. from Corpus Christi, TX signed.
Nov 11th, 2014
Gabriel S. from Woodland, CA writes:
If we don't change our ways we'll eventually start a change in temperature equal but opposite to an ice age.
Sep 28th, 2014
Katie D. from Sacramento, CA writes:
The United States government must stop pandering to the oil industry and the antiquated practice of burning fossil fuels to meet our energy requirements.This practice is rapidly ruining the health of our one home, our entire planet. Profits for your campaign contributors and fear to take action against the status quo is not a valid reason to allow this planet wide destruction to continue.
Sep 18th, 2014
Bruce B. from East Jordan, MI writes:
People should have the say concerning their health.
Sep 3rd, 2014
Cassandra I. from Knoxville, TN signed.
Sep 3rd, 2014
Cassandra I. from Knoxville, TN signed.
Aug 30th, 2014
Justin G. from Sioux Falls, SD signed.
Aug 25th, 2014
Deanna T. from Kountze, TX writes:
We live in a time where technology and compassionate commerce can bring environmental balance and economic prosperity. Why trade the well being of future generations so a couple oil barons can make billions off of fracking while the workers doing the hard labor make a couple thousand dollars a week but forever damage the lakes and rivers and waters and farmland that are integral to our survival?
Jul 13th, 2014
Ryan N. from Ekron, KY writes:
Jul 1st, 2014
Someone from Lemon Grove, CA writes:
are country are leaders. we need to invest in green energy, we can make are own fue.make more hybrid cars. use bio diesal and ethonol and water ever else we can make.it will keep us out of other countries and create jobs.
Jun 26th, 2014
Grady M. from Brookline, MA signed.
Jun 12th, 2014
Jesse S. from Denver, CO signed.
Jun 11th, 2014
Jill W. from Denver, CO signed.
Jun 2nd, 2014
Aaron P. from La Fayette, KY writes:
I want my kids and grand kids to have a beautiful world to live in