Dear Congress: It's Time For Clean Energy and Climate Solutions
Clean Energy and Climate Solutions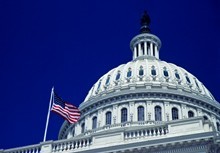 It Takes 1-Minute !
Just enter your zip-code below! We'll find your Representatives and set up a clean-energy email message for your review. You can send our sample text, customize it, or write your own!
Want it printed and hand-delivered to your Representative's DC Office? There's an option for that!
Privacy Assured: Your information will never be sold or abused. You can unsubscribe at any time. So please let us stay in touch with you by opting in on the next screen to receive our occasional actionable updates on energy and climate.
Public Comments
May 15th, 2014
Michelle B. from Alamo, CA writes:
May 6th, 2014
Dona L. from Tucson, AZ signed.
Mar 23rd, 2014
Deborah G. from Kansas City, MO writes:
Greenland is completely melting and sea levels will rise 22 to 24 feet. We could slow it down if.....we are willing to cut emissions by 80%. Climate science has agreed it's definitely melting, they are not sure of the timeline, it could be 100 years, 500 years, 1,000 years or as little as 50 years. We are 60 years ahead of what Scientist estimated the worse case scenario, or melt timeline. Many Cities like New Orleans, Miami etc will be under water. Many people still disbelieve in climate change/global warming, thanks to big oil, buying up unethical scientist. There's no profit for oil companies in wind/solar power. Only a narcissistic psychopath, would put money above the health of their own children and the children of others.
Mar 15th, 2014
Angela B. from Utica, NY signed.
Mar 15th, 2014
Trevor V. from Utica, NY signed.
Mar 14th, 2014
Nancy C. from Edison, NJ signed.
Mar 5th, 2014
Someone from Greenfield, IN signed.
Feb 26th, 2014
Bob T. from Gainesville, FL writes:
We either go forward with clean energy or we suffer the consequences of our inaction in the face of a rational, compelling alternative. What is holding us back?
Feb 8th, 2014
Pierce M. from Carmel, NY signed.
Feb 7th, 2014
Lisa G. from Coldwater, OH signed.
Jan 31st, 2014
Derek B. from Harrisonburg, VA writes:
Allow technology and possible ways of living to progress. Give other businesses the chance to bloom and allow citizens more choices. Thank you keep and keep moving forward do not stall ;)
Jan 26th, 2014
Nichole C. from Summerland Key, FL signed.
Jan 21st, 2014
Mark C P. from Philadelphia, PA signed.
Jan 20th, 2014
Anne F. from Wayne, PA writes:
It is up to us to save the planet. Please take action NOW.
Jan 19th, 2014
Cecilia E. from Bethlehem, PA writes:
A revenue neutral carbon tax is the most equitable, economic and efficient way to curb the catastrophic effects of climate change. We are looking for your bipartisan leadership to bring this about. Thank you
Jan 19th, 2014
Madonna M. from Havertown, PA signed.
Jan 18th, 2014
Bruce E. from State College, PA writes:
Jan 17th, 2014
Karen M. from Philadelphia, PA writes:
Congress - do the right thing. Do it for your grandchildren. When they ask what you did about climate change when you had the chance to look out for their future, what will you say? That you protected their future, or you protected fossil fuel profits?
Jan 17th, 2014
Salvatore C. from Gladwyne, PA writes:
Let's act before it is too late.
Dec 28th, 2013
Charles Sr. B. from Roswell, GA writes:
1. Solar and wind power plants already cost much less than coal, nuclear, oil and natural gas to build and to continue to operate and maintain (See the data cited at http://cleantechnica.com/world-wind-power/5/ and http://cleantechnica.com/solar-power/). 2. From a life-cycle and business perspective, it is a no-brainer that no more, new, cancer-causing and polluting, coal, nuclear, oil and natural gas power plants should be built or continue to be operated and maintained. 3. We get more than 3 times as many solar and wind jobs for every $1 invested than fossil fuel or nuclear energy jobs. (See http://cleantechnica.com/2013/03/20/over-3-times-more-green-jobs-per-million-than-fossil-fuel-or-nuclear-jobs/, http://www.peri.umass.edu/economic_benefits/ and http://www.peri.umass.edu/green_prosperity/)
Dec 12th, 2013
Howard M. from Ventura, CA writes:
We must implement clean energy, worldwide, ASAP, or the future of all living things, including humans, will be in danger of extinction !!!
Dec 3rd, 2013
Evelyn B. from Barkhamsted, CT signed.
Nov 29th, 2013
Ruth R. from Fort Collins, CO writes:
Thank you for all that you have done to implement solar-wind-wave already! Please implement solar energy on house-ships, house-boats, in areas that may flood. Please so all solar-wind-wave energy with bio-degradeable materials as much as possible.
Nov 29th, 2013
D. S. from Oakland, CA signed.
Nov 29th, 2013
Betty J. V. from Watervliet, NY signed.
Nov 29th, 2013
frances m. from Carmel By The Sea, CA signed.
Nov 29th, 2013
Hope W. from Corpus Christi, TX writes:
With all of the option available to us, we need to seriously begin to start exploring and using other energy sources on a wider scale. Geo thermal! More Green jobs!
Nov 29th, 2013
Victoria P. from Chicago, IL signed.
Nov 29th, 2013
EDWARD G. M. from Arvada, CO signed.
Nov 29th, 2013
Kaileen R. from Mission, TX signed.
Nov 29th, 2013
Franshisca D. from Hollywood, FL signed.
Nov 28th, 2013
AniMaeChi d. from Ojai, CA signed.
Nov 28th, 2013
sue h. from Piedmont, CA signed.
Nov 17th, 2013
Ken C. from Santa Barbara, CA writes:
the release of methane gas from thawed tundra and increased carbon gases from melting ice mean that global warming will increase in a numerical progression that could mean firestorms on the planet, the end of life on Earth. We must turn to clean energy completely if we are to survive.
Nov 17th, 2013
Marian H. from Spokane, WA writes:
Clean energy is critical to our survival on this planet.
Nov 17th, 2013
Mara S. from Spokane, WA signed.
Nov 17th, 2013
Shawn C. from San Carlos, CA signed.
Nov 17th, 2013
Cheryl C. from Spirit Lake, ID writes:
Many of us, including myself, have been trying to get your attention for a very long time (many years now!). The Climate Crisis is a very real, human-caused phenomenon and if our children and our planet is to have any type of livable future you will pay attention NOW and take ACTION to protect our fragile home. Wake up Idaho legislators, wake up!
Nov 15th, 2013
Vsevolod K. from Oklahoma City, OK writes:
Petition Note It is the right thing to do to switch to renewable energy to secure the future from potential hazards due climate change and ice melt
Nov 8th, 2013
Walter Y. from Philadelphia, PA signed.