Dear Congress: It's Time For Clean Energy and Climate Solutions
Clean Energy and Climate Solutions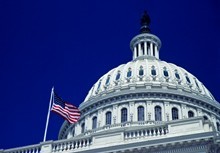 It Takes 1-Minute !
Just enter your zip-code below! We'll find your Representatives and set up a clean-energy email message for your review. You can send our sample text, customize it, or write your own!
Want it printed and hand-delivered to your Representative's DC Office? There's an option for that!
Privacy Assured: Your information will never be sold or abused. You can unsubscribe at any time. So please let us stay in touch with you by opting in on the next screen to receive our occasional actionable updates on energy and climate.
Public Comments
Jul 24th, 2013
Claudio F. from Miami Beach, FL writes:
Regardless of whether climate change is a result of human activity or not, bottom line is current energy options cause pollution and are "dirty" while we right now have the technology to switch over to sources of energy that are much cleaner and less damaging to our environment. The choice is obvious.
Jul 24th, 2013
Jerry Lee M. from Lancaster, PA writes:
A revenue-neutral tax on carbon would be an excellent step in the right direction!
Jul 24th, 2013
Jane D W. from Malvern, PA signed.
Jul 16th, 2013
Someone from Keyport, NJ signed.
Jul 9th, 2013
DARLENE M. from Morgan, UT signed.
Jul 6th, 2013
Ann T. from Bar Harbor, ME signed.
Jul 1st, 2013
Margaret P. from Portland, OR signed.
Jul 1st, 2013
Lu L. from Marianna, FL signed.
Jul 1st, 2013
Lu L. from Marianna, FL signed.
Jun 30th, 2013
Melissa P. from Doylestown, PA signed.
Jun 30th, 2013
JORGE B. from Vega Baja, PR signed.
Jun 28th, 2013
roy b. from Frankfort, KY signed.
Jun 28th, 2013
roy b. from Frankfort, KY signed.
Jun 27th, 2013
steve s. from Omaha, NE writes:
Dear public official: Please stop responding with letters stating how petroleum, coal, and nuclear energy is safe and reliable. Obviously it's not. The fact that elected officials can take kickbacks to promote these archaic forms of energy is absurd. It's time to increase wind energy and solar energy, and allow private citizens to install these options without fear of homeowners associations filing lawsuits for doing so.
Jun 26th, 2013
Sabrina H. from Herndon, VA writes:
We put man on the moon, we have astronauts living in the International Space Station orbiting earth. We are a nation of innovators. How can we be falling behind when it comes to protecting the environment? The window is closing. We can't stop global warming, but we can certainly slow it down. But we must take action before it's too late, and that time is approaching fast.
Jun 22nd, 2013
Kate H. from Chicago, IL writes:
We have to act now, with this generation, to ensure there's something more for the next.
May 28th, 2013
Laura V. from Hayward, CA signed.
May 21st, 2013
Jasmen J. from Albuquerque, NM writes:
We desperately need to lower c02 levels, with clean energy we can do that!
Apr 16th, 2013
Shelby S. from Corvallis, OR signed.
Apr 16th, 2013
diana b. from Coralville, IA signed.
Mar 31st, 2013
cathy c. from Woodstock, NY signed.
Mar 31st, 2013
Someone from Olyphant, PA signed.
Mar 30th, 2013
Caroline C. from Washington, DC writes:
"We are currently spending four-hundred million dollars a day on the war. We could pay for a solar tower every two days with what we are spending on the war. We are getting nothing from the war, except a lot of dead people. If we spent it on the towers or solar cells, we would have a source of almost free, clean power." Truth Contest and Unifying Truth Project
Mar 16th, 2013
TROY A. from Hilo, HI writes:
Clean energy across globe clean up environment reduce or eliminate use of electric and clean up our world
Jan 9th, 2013
Albertine H. from Billerica, MA signed.
Dec 27th, 2012
Joe H. from Columbus, OH signed.
Dec 18th, 2012
Emily T. from Vineyard Haven, MA signed.
Dec 7th, 2012
Shelly M. from Beachwood, NJ writes:
Clean Energy=Clean Earth-Clean Water=Life! This is a very big MUST!
Dec 7th, 2012
Chris S. from Westminster, CO signed.
Dec 3rd, 2012
Susan M. from Lockport, IL writes:
Climate change affects the 100%, not just the 99% or the 1%. Forget the tax hike talks, there's not going to be a viable world to live in to worry about that if we don't work together on this.
Dec 2nd, 2012
Someone from Boston, MA signed.
Nov 27th, 2012
Matt M. from Pittsburgh, PA writes:
We need to start committing ourselves to ACTION! Our representatives work for us, so let's tell them to get to work!
Nov 21st, 2012
Matthew P. from Bay City, WI writes:
I shouldn't have to demand this of our leaders. It should be common sense. Wake Up!
Nov 20th, 2012
Lee W. from Richmond, VA writes:
the time is NOW! divest from fossil fuels!
Nov 20th, 2012
Jadene F. from Portland, OR writes:
Energy needs to be liberated from the greed-motivated clutches of mega-corporations. Warm, dry, well-lit homes are a basic human right.
Nov 20th, 2012
Charles T. from Detroit, MI signed.
Nov 19th, 2012
Someone from Brookline, NH signed.
Nov 19th, 2012
Razmik B. from Glendale, CA signed.
Nov 19th, 2012
William G. from Trumbull, CT writes:
The recent election was testament to the fact that the emphasis on "green energy" was not able to be portrayed as a minus in the eyes of the people who were motivated to vote and the BS about Solyndra was not taken seriously, but rather seen as the normal fall-out in the course of developing bleeding-edge technologies. We need to push the new technologies forward, particularly where they offer alternatives to fossil fuels and where they can mitigate the ongoing climate risks.
Nov 19th, 2012
Kerry B. from Corte Madera, CA writes:
We need to pursue all clean and renewable energy sources with as much government support as the oil industry has enjoyed. And we need to do it immediately. We're killing our oceans, threatening coastal habitats for humans and animals worldwide. It has to stop.